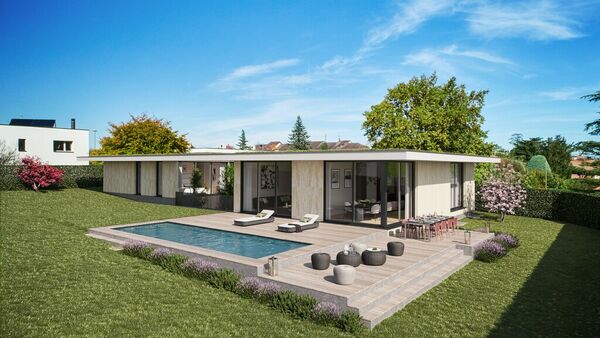 Future projects - Unique single-storey villa on plans - Veyrier - sign up !
New promotion of three THPE villas in the town of Lancy
New promotion of three contemporary THPE villas in Lancy. These three semi-detached villas offer you a magnificent view over the Salève with a large garden in a quiet and residential area.
Close to public transport and Bachet, you are 10 minutes by car from downtown Geneva.

3 magnificent contemporary villas with a useful surface of 216m 2 and a garden, with a land size between 452m 2 and 506 m2 will satisfy most requests.

The finishes, according to the buyers, will allow future buyers to occupy a unique place they have imagined.
The sales on plan and the execution of works by renowned companies will guarantee the purchasers an irreproachable execution of the construction works.
Two covered parking spaces included per house.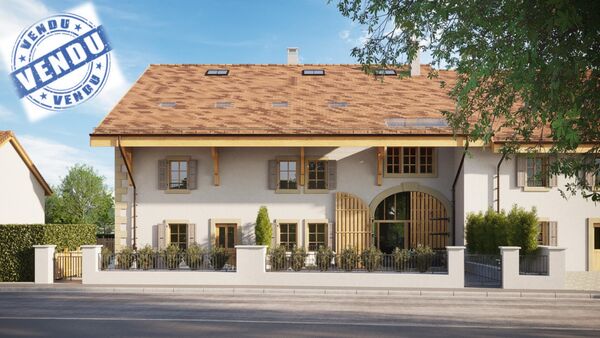 Creation of 4 new housing units in a farm building
Old stones and contemporary comfort will characterize these 4 EPP accommodation with garden and cellar.
From 160m 2 to 290m 2 , these atypical properties will satisfy the most demanding.

The finishes, according to the takers, will allow future inhabitants to occupy a unique place that they will have imagined.
The sales on plan and the execution of works by renowned companies will ensure to the purchasers the guarantee of an irreproachable execution. In addition to this, you need to know more about it.
One outdoor parking space included per lot, possibility of acquiring additional spaces in the basement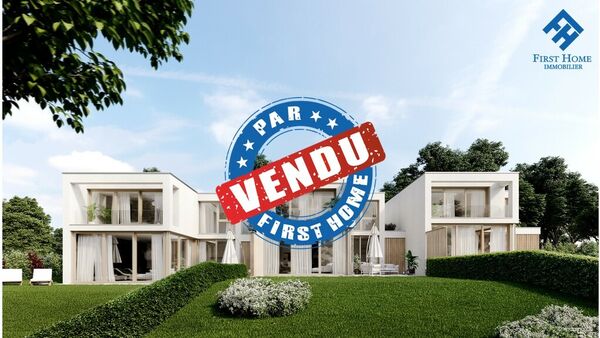 Project of 3 prestigious villas on plans - Permit is in force !
New promotion of 3 large modern villas in the popular town of Vésenaz.

These semi-detached villas with high-end finishes will seduce you with their exposure and their configuration.

Generously spread over 3 levels, they have a comfortable surface area of approx. 108m 2 on the ground, each house offers about 330m 2 useful including the basement.

Each villa has 2 covered parking spaces as well as a space for bikes on the entrance side of the villas.

The permit is in force!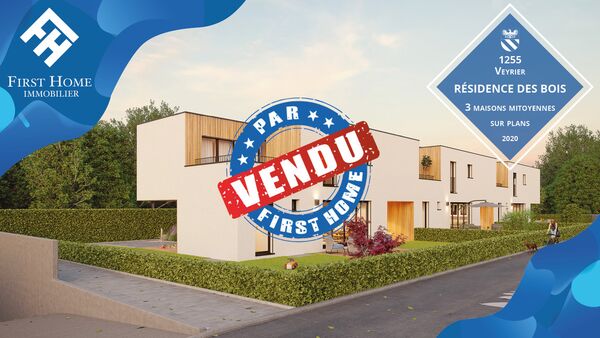 Résidence des Bois - All sold!
Superb project of 3 villas in Veyrier
This beautiful project offers 3 very spacious and bright villas, which benefit from a calm environment in the town of Veyrier.
With a comfortable floor space of approx. 85m2, each house offers between 245 and 266m2 of useful space including the basement.
The spaces are nicely distributed. You will particularly appreciate the arrangement of the reception rooms on the ground floor: in an open space, each space is nevertheless well defined. The kitchen can be closed if desired. The upper floor offers 3 or 4 bedrooms, depending on the type chosen.
Large south-facing gardens extend the terraces, and a pretty private gravel courtyard is placed at the entrance.
The car parks are in the basement (common entrance with the neighboring project) and offer 2 spaces per villa. A visitors place completes this offer.
The building permit is in force.
CLOS DE BRESSLER - SOLD !
Construction Land Research
Develop a project on your land
We advise you on your various options
Many aspects are to be taken into account: fiscalism, family planning ie inheritance,
your own needs in terms of timeframe and budget.
We are here to advise you, with our renowned partners.
As a result, you will determine what the best solution is for you
Sale of New Projects:  It's a whole programme !
We will support you through every step of the transaction. Our team has many sold projects to its credit.
We put our experience into helping you step by step :
1. A well-definedproject
Identification of the parcels, potential to build, typologies and selling price.
2.  Prepare the
"coup de coeur"
With a global complete market communication package including: beautiful 3D visuals and a professional, well defined presentation.
3. Find a buyer
for each plot
Through our database of clients and targeted media distribution (property portals, social media, written press). We accompany the clients step by step: project development, financing, presentation of developer, reading of sales acts.
Buy off-plan: an adventure supervised by professionals
We will guide you through every step
Trust us: We know very well our projects, as we are present from the very start to give you the best advice on what can be built. We are here to explain to you every detail of the project in partnership with people of confidence:
developer, architect, financial institution, builder, notary…
We remain at your side even after the signature. You will just need to personalize your future home.
With us, find your property that doesn't exist yet and which will be built following your wishes and desires.